Voltar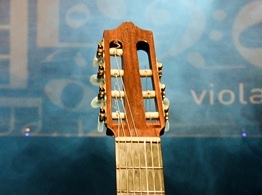 The Brazilian Seven String Guitar - Adam May
2013
The Brazilian seven-string guitar: Traditions, Techniques and innovations
Submitted in partial fulfillment of the requirements of the degree of Master of Music - Musicology/Ethnomusicology (with course work component)
September 2013
Melbourne Conservatorium Of Music
The University Of Melbourne
Abstract: Since the early 1980s a new and unique repertoire has emerged for the seven-string guitar, known in Portuguese as the violão de sete-cordas, a Brazilian instrument typically played in choro ensembles. This thesis demonstrates, through musical analysis, that this new repertoire is a result of two converging musical influences, both the Brazilian six-string guitar repertoire and the traditional accompaniment role of the seven-string guitar in choro ensembles
Choro is a genre of Brazilian instrumental music that developed in Rio de Janeiro during the late nineteenth century and continues to be played throughout Brazil, as well as gaining popularity in other parts of the world. The Brazilian seven-string guitar emerged in Rio de Janeiro at the beginning of the twentieth-century; photographic evidence and recordings confirm that it was included in choro ensembles as early as the 1910s.
Traditionally strung with steel strings and played using a metal thumb-pick, the instrument provides a counterpoint accompaniment line that is generally improvised. In the early 1980s a small number of musicians experimented with the use of nylon strings; this resulted in timbral variations and greater expressive qualities similar to the standard classical guitar.
Guitarists began to use this new version of the seven-string guitar as a solo instrument, as well as in other musical settings outside of typical choro groups; this significant development is referred to as the duas escolas or two schools of performance practice.
In this thesis, a selection of works composed between 1983 and 2012 is analysed, considering elements such as rhythm, harmony, melody and form, along with issues of performance practice and instrumental techniques and discussing the distinguishing musical features that contribute to the new seven-string guitar repertoire.
Cadastre-se para ter acesso ao download de arquivos exclusivos do portal.